Another question: what major changes do you think the world will see in the 2020's?
By 2030, the world will likely be unrecognizable in many aspects, and I don't jump to these inferences hastily.
The biggest catalyst to the start of the global depression will come shortly after Trump is re-elected in November.
The civil divide will reach a new high, almost to the point of a mini civil war.
Until then, our economy will be artificially held afloat, luring people in a false sense of security to invest their hard earned money despite data showing otherwise.
Once the "everything bubble" pops, that'll be the beginning of the end, and will inevitably lead to the dollar losing its status as the worlds reserve currency to buy and sell oil.
Hyper inflation occurs immediately followed by civil unrest, similar to what we see right now in Venezuela.
Also similar to Venezuela, we can expect a prolonged power outage due to an Emp attack; as to who perpetrates that act, I'd rather not extrapolate.
There's enough predictive programming to show that this is what's to come.
https://en.m.wikipedia.org/wiki/Counter ... le_Project
More immediately, there will be a world health concern with the spread of Ebola, as it is already being actively suppressed to a great extent.
Not only that hundreds of infected illegal immigrants are shuttled around with Ebola in America which the media will actively deny.
All of which is fine as you need to understand ebola is all a sham.
Hell viruses don't exist, but that's a different subject.
Cross reference the symptoms of Ebola with radiation poisoning and come to see the truth.
That people are being misdiagnosed with Ebola after being irradiated by our sun and the extremely high UV index that weather channels lie about.
Also that Different grades of UV exist, and UV-C which is essentially microwaves, that shouldn't be present at ground level are being measured in startling quantities.
https://youtu.be/2vaO_KWJ8ig
Add some toxic sunscreen and bam, skin cancer for all.
This on top of emf radiation from thousands of small cell towers will almost guarantee cancer in your life time, as your chances are 1/2 at this point.
Thankfully the traditional and accepted medicine today costs hundreds of thousands of dollars and FAILS 98% of the time over a 12 year period.
https://youtu.be/WF_14hSs4z8
All of this in the name of profit as the cures are not able to be patented, and thus are not profitable.
On top of this the vaccine schedule for kids will continue to grow by the year until every kid is autistic or has some sort of autoimmune disorder.
Aside from forced vaccination being against the Geneva Convention, it's the brainwashing of the people baffles my mind the most despite the plethora of independent studies to show how the detriments far outweigh any potential benefit.
And for those who will attack my anti vaxx stance, answer me this, if you're vaccinated and you're confident they work, why be scared if others don't get the shot?
Herd immunity is not an acceptable answer as the navy ship currently quarantined bc of measles despite a 100% vaccination rate disproves that.
Bc they work and have caused upwards of 3.5 billion in damages paid out by the federal government.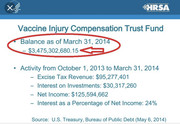 Whilst the people who make the vaccines run the safety studies themselves, conflict of interest much?
Instead of the rigorous years of double blind placebo tests required for any other medicine, vaccines are for some reason exonerated and are tested for a few days on orphans, with no double blind tests at all.
Sounds ridiculous but i implore you to watch some of Stanley Plotkin, world leader in vaccines deposition. It's 9 hours and leaves no doubts. I know most attentions spans are only 1-2 minutes here so here's a tiny excerpt about the safety studies
https://youtu.be/bU0FMFJzPZE
All of this culminates into a mass effort to subdue and create a flock of docile sheep willing to believe whatever their tv or phone tells them.
All of which will end in a global conflict that will ultimately unite us under a single world order and currency.
Just look at the civil unrest around the world, more specifically France; in which now they've protested in large numbers every week all year to be put down by a tyrannical police state
Social credit score will be implemented around the world, not just China.
California is being burned to the ground the pay our debt to China, check the largest holder of US treasury bonds and how much they dump quarter over quarter.
China owns America, and they'll back their Yuan with gold to replace our currency.
When you hear news of Deutsche Bank going bankrupt, know it's all crumbling as their derivative portfolio alone will topple the system.
Hell theyre so desperate they stole Venezuela's gold for collateral they had on a loan they defaulted.
Theres way to much to synoptically lay out the next decade, but I think this is a good start.